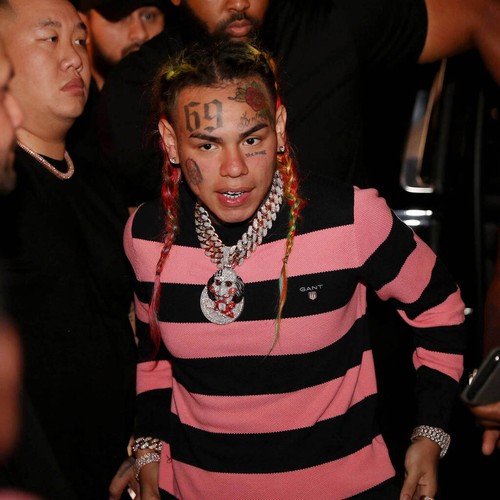 Rapper Tekashi 6ix9ine was taken to the hospital on Tuesday after being beaten by a group of men inside a South Florida gym.
6ix9ine, whose real name is Daniel Hernandez, was in a LA Fitness sauna when he was attacked by three or four men, allegedly without warning, according to his attorney Lance Lazzaro.
Employees at the gym heard the commotion and immediately notified the manager, who then called emergency services. The perpetrators fled the scene after the staff heard the disturbance.
The 26-year-old was subsequently transported by ambulance to a nearby hospital.
According to TMZ, who obtained a picture of him after the attack, the Trollz artist had injuries to his jaw, back, and ribs.
One Twitter user posted a video of 6ix9ine with a bloodied face walking towards the exit of the gym and saying, "Y'all n****s jumped me." Other social media posts show the attack in progress, including one of the men's faces.
The incident comes just days after the rapper was reportedly thrown out of LoanDepot Park in Miami on Friday after getting drunk and making a scene during the World Baseball Classic.
The hip-hop star was granted early release from prison in April 2020. He was given a shortened prison sentence of two years in 2019 for racketeering, drug trafficking and firearm offences after he agreed to testify against other Nine Trey Gangsters associates.
It's unknown whether the assault is connected to the case, however, Lazzaro told TMZ that he plans to get his client some protection.